Jean-Étienne Liotard
Portrait de Marie Grand, née Silvestre (1721-1793)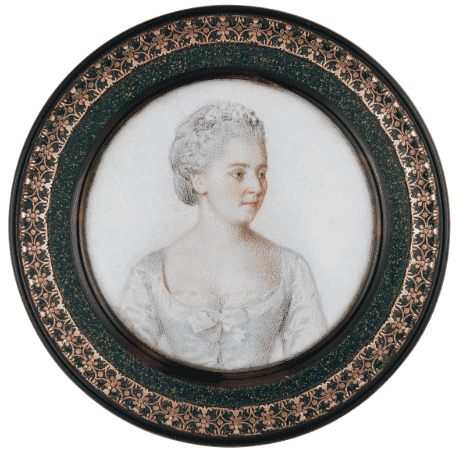 Red chalk and pencil on vellum, set in to the lid of a poudre d'écaille box decorated with gold piqué, tortoiseshell mounts and lining.
Diameter: 52 mm
Provenance
By descent from the sitter to the Grand d'Hauteville family, Château Hauteville, Vevey, house sale, Geneva, Hôtel des Ventes, 12 September 2015, lot 1096.
Dr Erika Pohl-Ströher (1919-2016).
The sitter, Marie Silvestre, married Rodolphe Ferdinand Grand (1726-1794). Their third son, Daniel Jean Philippe, married Anne Cannac d'Hauteville.
This tiny, exquisite drawing encapsulates Liotard's charm and brilliance as an artist and portrait maker. Liotard made miniatures in enamel as well as the more traditional gouache on vellum – the technique used by the early masters of the medium such as Nicholas Hilliard and Isaac Oliver. Enamel miniatures are intimate objects to be held in hands and closely examined. They were often worn on the body of their owners as jewellery or placed to decorate objects which could be used, such as snuff or powder boxes. While the practice of the private exchange of miniatures and their visual display on the body or on objects continued throughout the eighteenth century, these small portraits were also beginning to be cherished by collectors for their aesthetic rather than sentimental value.

Here, Liotard uses his superior skills of draughtsmanship to create a chalk study which has all the liveliness and character of his works in colour, whether pastel or gouache. The particular presence and delicacy which Liotard conveys in his treatment of the details of the sitter's face, the soft cheek, pensive eyes and the expression of a gentle smile lend great tenderness to the depiction. This characterisation, even on such a small scale, is typical of Liotard's perceptive treatment of his sitters and the wisdom of gaze which he conveys.
Liotard, was born in Geneva and originally trained in Paris as a miniature painter; his fortunes took a decisive turn in 1738 when he accepted an invitation from a group of English gentlemen, amongst them the Hon. William Ponsonby (Viscount Duncannon and later 2nd Earl of Bessborough) and John Montagu, 4th Earl of Sandwich, to accompany them on their grand tour to Constantinople. The young gentlemen returned home within the circumscribed time, but Liotard stayed on and attached himself to the household of the British ambassador to the Sublime Porte, Everard Fawkener. He soon became the favorite portrait painter for expatriate communities in the Ottoman capital. Liotard's work included black and red chalk drawings on paper recording intimate scenes of Europeans in oriental dress, who adopted the customs of the country by sitting cross legged on cushions and drinking coffee, as well as more imposing paintings, such as a life size oil portrait of Richard Pococke, pioneer archaeologist of the Middle East.

Returning to Europe, Liotard arrived in Vienna in 1743, causing an immediate sensation with his oriental robes, large fur hat, and the long beard he had grown according to local custom while in Moldova at the court of prince Constantin Mavrocordato. He attracted the attention of Empress Maria-Theresa and soon received prestigious commissions at the imperial court, including the exceptional and intimate series of drawings of eleven of the Empress's children which he went on to execute in black and red chalk over graphite pencil, heightened with colour on the verso in the manner that miniatures often were. In 1748, Liotard travelled on to Paris and then London, and his self–staging as peintre turc continued to create excitement wherever he went.
Today Liotard is best known for his larger portraits in pastel, but in the eighteenth century he was a most celebrated miniaturist who, as this fine work illustrates, experimented on a tiny scale with a variety of techniques. An example is the self portrait in the collection of the Lewis Walpole Library, one of a group of such self-portraits painted in the traditional method that originally emerged from the workshops of book illuminators in the early sixteenth century. In contrast to the polished appearance of enamel work, more often used for snuffboxes, vellum gives a velvety allowing for the softness inherent in Liotard's other favourite medium of pastel. The present work combines Liotard's extraordinary skill working on a small scale, his precision, his sympathetic ability to capture a likeness or character and his subtle mastery of the medium of red and black chalk.