Pietro Giacomo Palmieri
Bologna 1737 - Turin 1804
Shepherds and thei Animals Caught in the Wind | Un couple de paysans avec leurs animaux dans un paysage venteux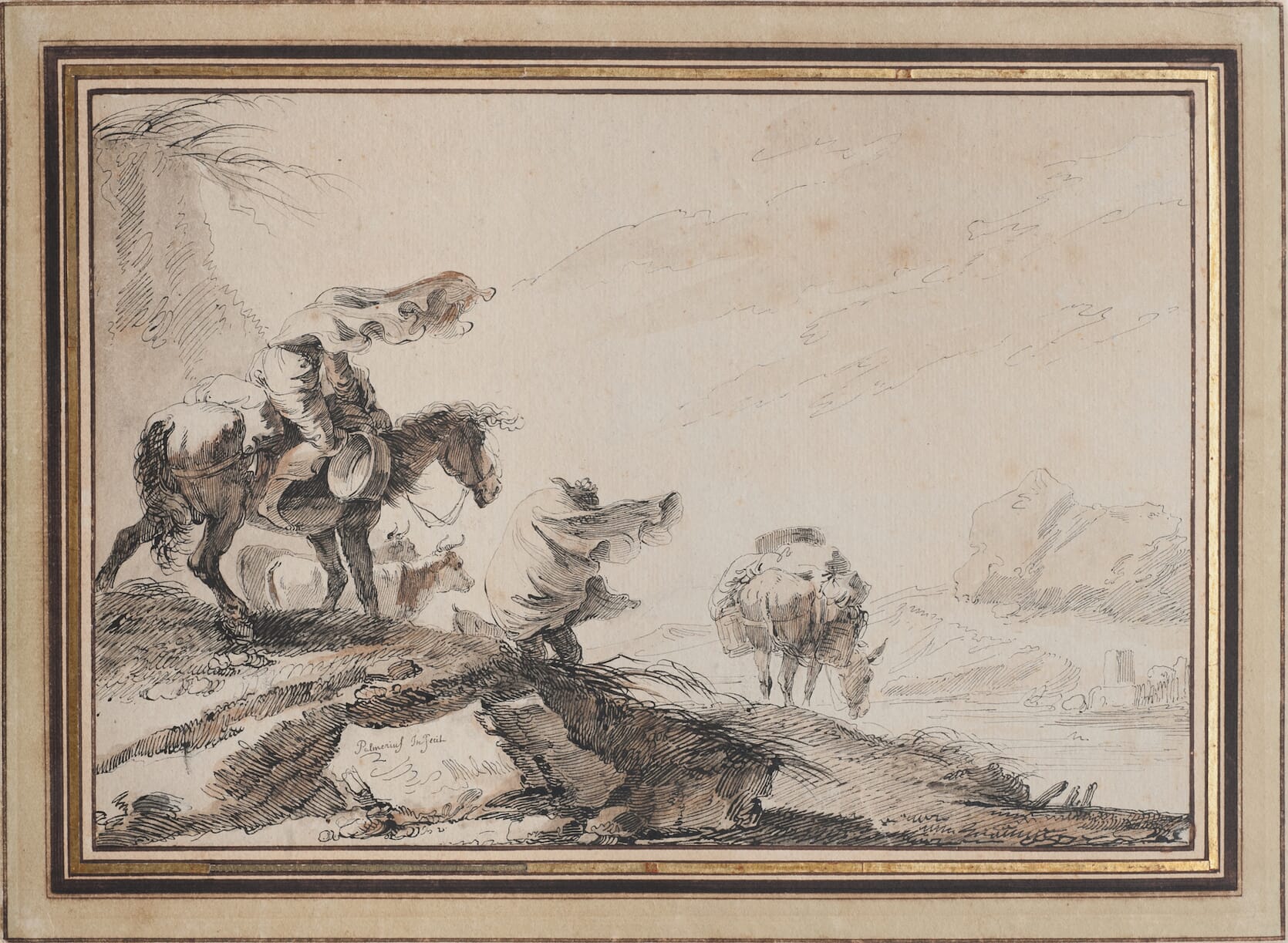 Pen and brown ink, brown wash
Signed Palmierus In Fecit. at lower left
185 x 260 mm (7 ¼ x 10 ¼ in.)
Trained at the Accademia Clementina in Bologna with Donato Creti and Ercole Graziani, Pietro Giacomo Palmieri studied not only Bolognese but also Venetian landscape models, such as those of Marco Ricci, Giuseppe Zaïs and Francesco Zuccarelli. Around 1770, he settled in Parma which was then experiencingan economic and cultural boom and was governed by Duke Philippe I (Philippe de Bourbon) and his secretary Guillaume du Tillot. The latter, who became Prime Minister in 1759, quickly detected Palmieri's talent and appointed him as professor of drawing at the Academy of Fine Arts in Parma, created under his leadership along with the Museum of Antiquity.
In 1773, Guillaume du Tillot fell out of favour and thus returned to Paris. Palmieri followed him as valet de chambre and began to draw copies of the paintings in Tillot's collection and other works. In Paris, the Bolognese draughtsman came into contact with the engraver Jean Georges Wille and the merchant Basan; he soon achieved considerable fame with his drawings imitating prints. The collectors and amateurs of the time also appreciated his actual prints which were sold in his studio near the Louvre and by such publishers as Isabey or Basan. The play of aemulatio between prints and drawings, which particularly concerned French artists at the time, had also been explored by such Bolognese artists as Gandolfi. Thus, it had a special resonance for Palmieri, who gladly copied, produced pastiches for amateurs, drew splendid tromp-l'oeil compositions and amalgamated various influences. Despite his Parisian success, Palmieri visited England, Spain and Switzerland and then returned to Turin where he settled permanently. He brought with him the taste for drawings as finished and collectable works as well as his concept of landscape forged from the English, French and northern influences that he had acquired during his journeys.
The present drawing is a perfect example of the different cultures assimilated by Palmieri during his travels. Various influences come to mind: Bolognese through hatching lines in pen, Genoese and Lombard through rustic or even northern subjects. We can also relate the subject chosen by Palmieri, that of a gust of wind, to his French culture: the draughtsman could not ignore the characteristic attempt of French painters of the second half of the eighteenth century to capture in painting the feeling of air and its atmospheric variations, such as, for example, Joseph Vernet in his Midi sur terre, le coup de vent (Gust of Wind) (1767 Avignon, Musée Calvet), and Jean Honoré Fragonard in L'Orage ou la Charrette embourbée (The Strom or the Cart Stuck in the Mud) (ca. 1759, Paris, the Louvre). Signed in fine penmanship, with neat framing lines in brown ink, this drawing is a work of art in its own right intended for a collector.