Paul Gauguin
Paris 1848 - Îles Marquises 1903
Recto: Two Leopards and a Sleeping Tahitian Woman; verso: Profile Self Portrait with Studies of Two Women in Breton Costumes | Recto : Deux léopards et une Tahitienne endormie; verso : Autoportrait en profil avec deux études de femmes en costumes breton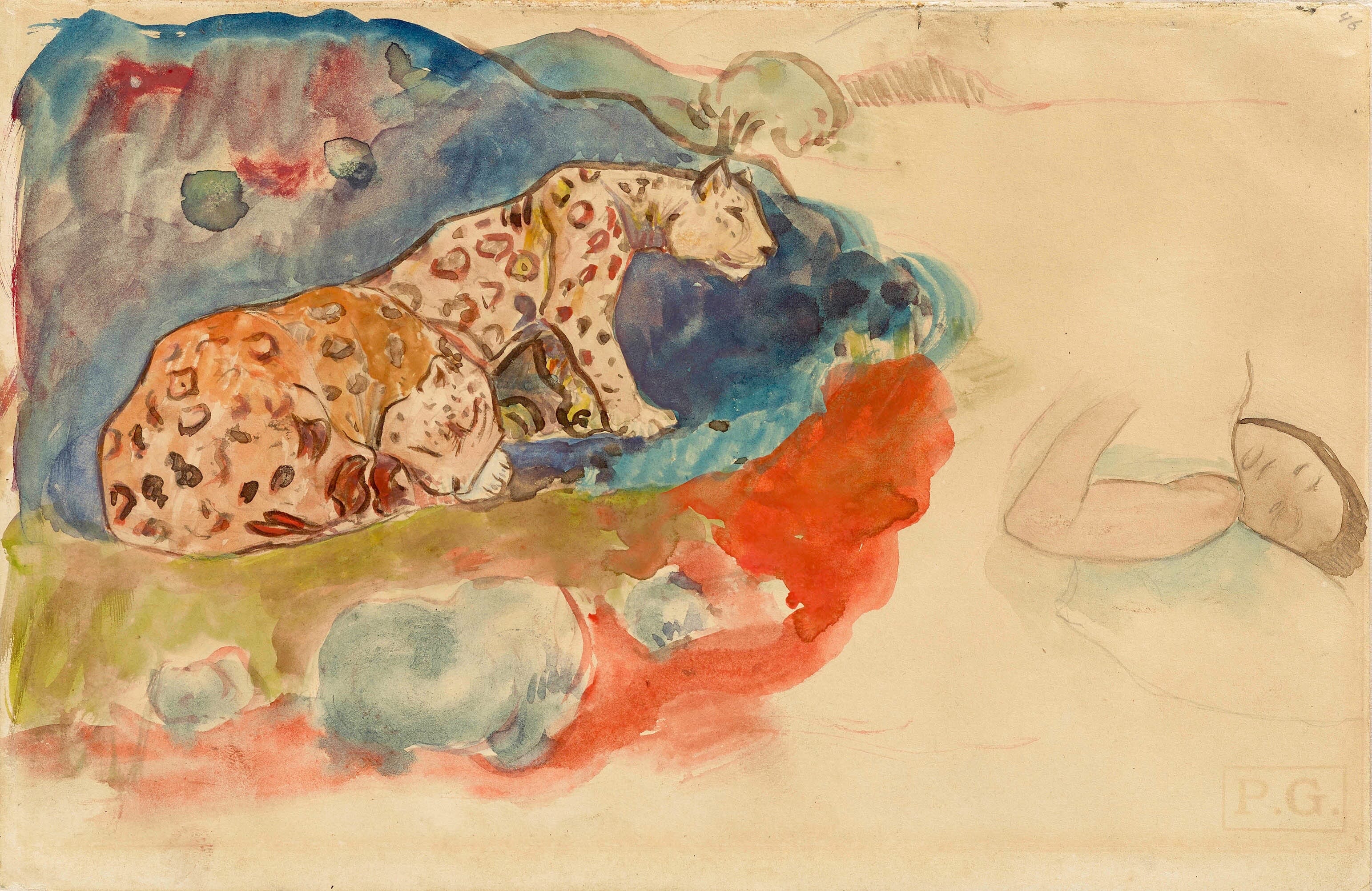 Watercolour and pen and brown ink (recto); black chalk, or graphite (verso).
Bears numbering in pencil top right: 46

178 x 273mm. (10 5/8 x 7 in.)
Provenance:
Paco Francesco Durrio, bears his stamp: P.G. L.2078 recto and verso; probably then with Leicester Gallery, London, 1931; according to verbal information from the previous owner's family, the drawing was purchased by Mr T. Holden Sr.; to Mrs T. Holden, Portland, Maine, U.S.A. (by 1959); the Holden collection and thence by descent.
Exhibited:
Paris, Société du Salon d'Automne, October-November 1906, probably in one of the 'Trois albums avec croquis' listed as belonging to Paco Durrio, no.155; probably London, Leicester Gallery, An Exhibition of the Durrio Collection of Works by Paul Gauguin, May-June 1931, perhaps in no. 37. 'Feuilles d'études de figures et d'animaux, watercolour and pen or no.57, Esquisses et projets de tableaux, (drawing).
Literature:
Lee van Dovski (Walter Lewandowski), Gauguin. The Truth, London 1961 (originally published in Germany in 1959), p.190 (illustration of the verso, the head in profile identified as a self-portrait). Certificate from the Wildenstein Institute stating that Guy Wildenstein and the Comité Gauguin intend to include this drawing in the catalogue of the work of Paul Gauguin.
This rare and fascinating watercolour by Gauguin is particularly important for its pictorial quality, its subject matter and its beautiful colouring. The sheet also offers an exceptional insight into the way in which Gauguin used his drawings and the importance of sketchbooks to his artistic development.
The measurements of the present sheet (278 x 173mm.) along with the type of wove paper and the PG stamps clearly identify this drawing as part of a re-emerging group of pages from one of Gauguin's most fascinating sketchbooks. Other examples are in The Art Institute of Chicago, Seated Tahitian Woman (recto); sketches of roosters (verso)[1], (black chalk, bears numbering in top left corner, 1. Inv.1943.521 R/V) and the Chrysler Museum of Art, Three Studies of Heads,[2] (black chalk, bears numbering in top left corner, 6. Inv. 50.48.68) and another was exhibited by Jean-Luc Baroni, Tahitian Woman with two partial studies of the Entombment of Christ and of Reclining Christ[3]. A further study of a Tahitian Woman Seated on the Ground related with the Nave Nave Mahana (1896, Musée des Beaux-Arts, Lyon) has recently appeared on sale[4]. All these sheets are to be included in the forthcoming volume of Gauguin, catalogue raisonné to be published by the Wildenstein Institute. The sketchbook from whence the sheets are taken has yet to be given a name.
The spectacular watercolour study on the recto and the various sketches on the verso can all be related to works and events belonging to the period during and after 1888. Unravelling the connections and dating of Gauguin's sketchbooks is often complicated because it is clear that he did not work through the books consistently but rather used more than one book at a time and often returned to pages used earlier to elaborate on sketched ideas.
To date, five bound sketchbooks have been identified as Gauguin's: one in the Stockholm Nationalmuseum, one in the National Gallery of Art, Washington (ex. Armand Hammer collection), one in the Israel Museum, Jerusalem, and two in the Louvre[5]. Seven unbound sketchbooks have also been identified and it is clear that this method of keeping visual notations, only on occasions as elaborate and highly coloured as the recto of this sheet is, was central to Gauguin's way of working and constitutes a key and highly creative aspect of the artist's output.
However, these notations are rarely as elaborate and highly coloured as the recto of this sheet is. Therefore, several interesting connections with biographical details and existing works can be proposed. Firstly, Gauguin's leopards watching over a sleeping woman were based on sketches made, during visits to the 'Grande Ménagerie des Indes'. This attraction came to Arles on 2 October 1888 in the course of Gauguin's stay in the so called Yellow House, where he lived and worked for a brief and intense few weeks with Vincent Van Gogh[6]. Furthermore, this page is intriguingly related to the study of a woman and a fox[7], which was preparatory for the painting La perte du pucelage of 1890-91. This picture was posed for by Juliette Huet, a young seamstress who became Gauguin's model and lover in Paris[8]. Both works share the same sinuous line, comparable landscape elements and the same sense of latent ferocity. However, the sleeping woman studied on the present sheet has the features of a Tahitian, which suggests that Gauguin may have worked up the page, or redrawn the leopards once he had arrived in Polynesia. The fact that he used the same sketchbook again is confirmed by the two aforementioned known sketchbook sheets with connections to the painting titled Nave Nave Mahana: the drawing which appeared in a Sotheby's sale in 2017 as well as the verso of the drawing with Jean-Luc Baroni (Colnaghi 2000). The latter in fact shows panthers very similar to our leopards, as well as a boy eating fruit, which is preparatory to the boy we see in the foreground of the Lyon painting. The threads linking all these studies wonderfully express the flowing movement of Gauguin's creative inspiration and the intense connections he clearly felt to certain images and memories.
The visible sketches on the verso were described and illustrated already in 1961 as a profile self portrait and studies of Breton women. The profile portrait compares with Gauguin's self portrait dedicated 'to my friend Daniel' painted in 1896 (Musée d'Orsay) but possibly dating to a few years earlier. By the rapidity of execution, it is also reminiscent of the profile head of Emile Bernard seen in the background of Gauguin's Self Portrait painted for Van Gogh (Les Misérables), executed in 1888 and now in the Van Gogh museum. The Breton women meanwhile, seated on the ground with their linen headdresses and collars bear particular similarity with the background figures in the Vision after the Sermon painted in September 1888 (Scottish National Gallery).
Other pages from the same sketchbook have appeared on the market, though none as vibrant and pictorial as the present sheet, but they also include studies of Breton scenes, whether people, cottages or domestic animals. The present page, however,
makes so fascinatingly apparent with its combination of Tahitian and Breton elements, how Gauguin kept returning to this sketchbook over a long period of time and distance travelled.
The provenance of this sheet and indeed all those pages from Gauguin's sketchbooks which bear the same square type PG stamp has been identified as the collection of the Spanish sculptor Francisco Durrio Y Madron (1875-1940), called Paco Durrio, who was a great admirer and a friend of Gauguin's. It is not clear how Durrio came by these works, whether he acquired them or was entrusted with them by the artist to sell; nor is it known when these sketchbooks were dismembered. It has nevertheless been established that three of Gauguin's sketchbooks were in Durrio's possession at the time of the Salon d'Automne in 1906, as he loaned them for an exhibition along with other works and they were mentioned in the exhibition catalogue. The other sizes for sketchbook sheets from Durrio's collection are 211 x 200 mm, 158 x 118mm or 178 x 273 mm, as the present sheet. Therefore Durrio seems to have affixed the PG stamp himself. Containing Polynesian elements, the sketchbooks were either handed over to him by Gauguin between his two Polynesian journeys or sent from Polynesia. As Durrio also owned the sketchbook sheets related to Nave Nave Mahana, the sketchbook was likely to be sent from Polynesia during the artist's second stay. Unless Gauguin simply echoed previously drawn elements from the sketchbook for his 1896 painting having left it with Durrio. This is an equally possible theory given the complex system of connections that permeates his work[9].
---
[1] Black chalk, bears numbering in top left corner, 1. Inv.1943.521 R/V.
[2] Black chalk, bears numbering in top left corner, 6. Inv. 50.48.68.
[3] Colnaghi, An exhibition of Master Drawings, New York and London, 2000, cat. 56, bears numbering top right: 63.
[4] Sotheby's New York, 15 November 2017, lot 14, watercolour and pencil on paper, 274 x 178 mm, stamp PG.
[5] 'Stockholm Sketchbook', made up of a variety of laid papers measuring 234 x 297mm.; 'Armand Hammer Sketchbook', machine made wove ledger paper, 165 x 110mm; Jerusalem, 'Carnet Huyghe', again a ledger book, (includes the studies of animals in the Arles Menagerie, made in 1888), 170 x 105mm; Musée du Louvre (on deposit from Musée d'Orsay), 'Album Briant (RF 30 273, 340 x 224mm.) and 'Album Walter' 153 x 94mm), both poor quality ledger books; another album in the Louvre (Inv.RF 29877) is made up of an unbound assortment of loose skeets from a variety of different sketchbooks. Two of the identified dismantled sketchbooks are the so-called 'Martinique Sketchbook' a number of sheets from which were with Paco Durrio, measuring 269 x 204mm, and the small 'Carnet de Tahiti' which was disbound and scattered in 1954, the pages from which measure 107 x 67mm.
[6] Extract from Martin Gayford, The Yellow House, Van Gogh, Gauguin and Nine Turbulent Weeks in Arles, London 2006, p.219-220: 'Among the attractions were 'lions, lionesses, lion cubs, tigers, leopards, panthers, cougars, pumas, polar bears, hyenas, lamas, zebras, snakes, elephants and monkeys' [...] Gauguin filled twelve pages of his sketchbook with drawings of lions, lionesses and elephants presumably during the day, when the animals were not being put through these preposterous routines. But the evening performances also left a deep impression on his memory. He wrote of the circus three times - in his memoirs, Avant et après; in a newspaper he produced and wrote in Tahiti in 1899 (it never had more than 309 readers); and in a short story which mingled, as in a dream, all manner of events and people from Gauguin's live in Arles.' The leopards on the present sheet have large heads and powerfully built legs, and these features more resemble lions. Perhaps Gauguin drew lionesses but turned them into leopards for their greater decorative qualities?
[7] Gaugin offered this study to Octave Mirabeau. It is now in a private collection (316 x 332 mm, coloured chalk on paper).
[8] Juliette Huet (Huais) became pregnant but was abandoned by Gauguin on his departure for Tahiti in April 1891. Her daughter, born in August, was christened Germaine.
[9] See academic studies published online by the Art Institute of Chicago Gauguin's Paintings, Sculpture and Graphic Works, under cat. 38, note 14 and under cat. 29 to cat. 38, Part Three - A Case Study: the So-Called Martinique Sketchbook, section 22.