Édouard Manet
'Plainte Moresque' : Portrait de Jaime Bosch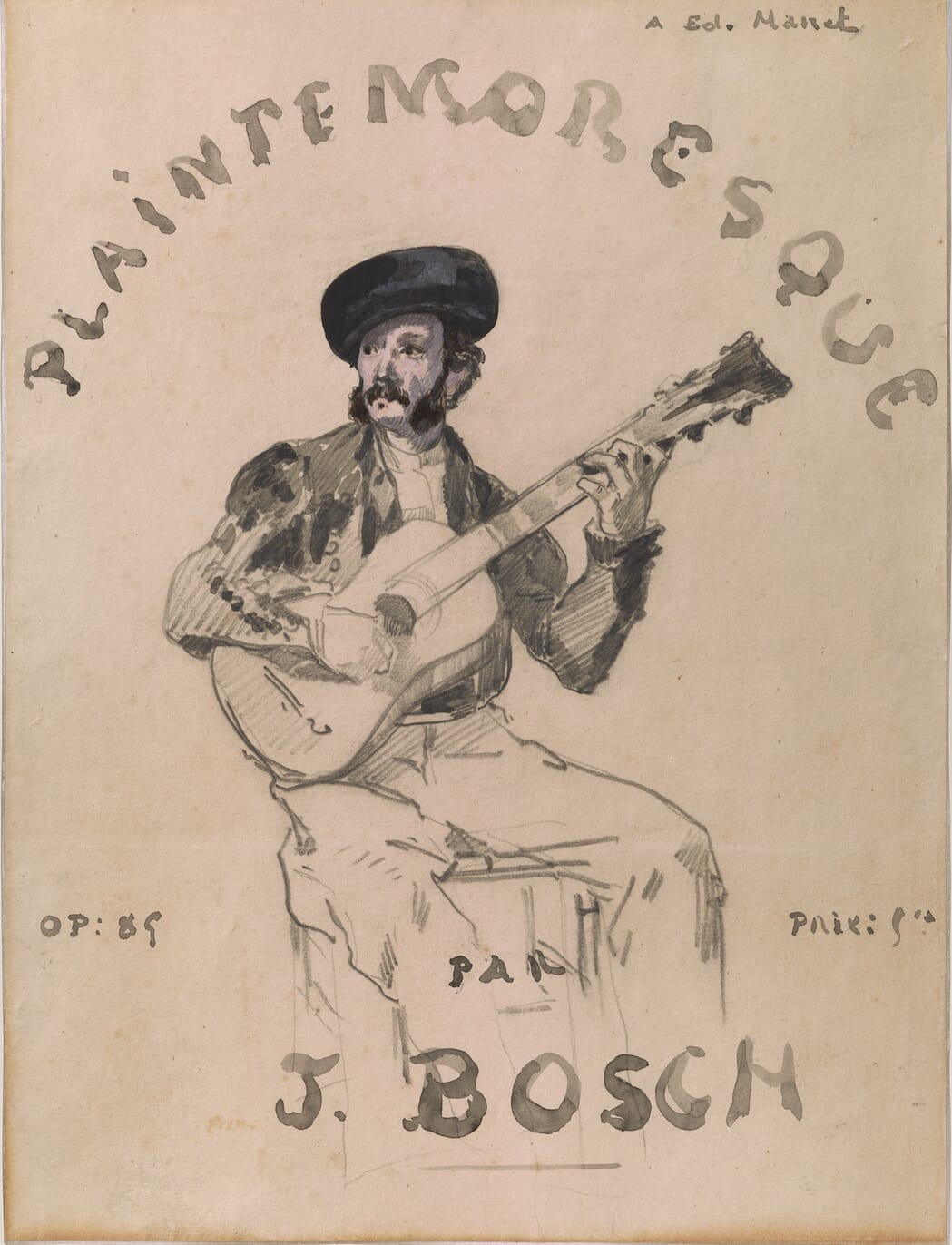 Pencil and black chalk, light and dark shades of grey wash, with a pink-white wash over the face and hat, a brown wash on the moustache and deep black wash in the hat, the eyes and the hair.
Inscribed A ED. Manet/Plainte Moresque/Op:85/PAR/J. BOSCH/Prix : 5.
Numbered 4914 on the verso
357 x 269 mm (14 x 10 ½ in.)
Provenance
Madame Manet (widow of the artist); sale Paris, Hôtel Drouot, Tableaux, Pastels, Etudes, Dessins, Gravures par Edouard Manet et dépendant de sa succession, 4-5 February 1884, lot 149; acquired by Alfred Morel-Fatio (1850-1924); Galerie Choiseul, rue Laffitte, Paris (according to labels on the backing) sale, Paris, Hôtel Drouot, 10 June 1964, lot 151; Sotheby's, 3 June 2015, lot 54; Sotheby's 23 March 2017, lot 110.
Exhibited
Paris, École des beaux-arts, Exposition des œuvres d'Édouard Manet, Préface de Émile Zola, 1884, no. 178 (preserved in a photograph, made by Manet's photographer, Godet)
Literature
Fernand Lochard, Reproductions d'œuvres de Edouard Manet, Paris 1883-4, illustrated no. 185; Edmond Bazire, Manet, Paris 1947, no. 566, illustrated p. 56; Merete Bodelsen, "Early Impressionist Sales, 1874-1894", in Burlington Magazine, Londres, June 1968, no 149, p. 343; Alain de Leiris, The Drawings of Edouard Manet, Berkeley, 1969, cat. 169, p. 58; Denis Rouart and Daniel Wildenstein, Edouard Manet catalogue raisonné, vol. II, Paris, 1975, cat. 457, illustrated p. 167; Françoise Cachin, Charles S. Moffet, Michel Melot, Juliet Wilson-Bareau, Manet 1832-1883, New York, Metropolitan Museum of Art and Harry N. Abrams, Inc, Publishers, 1983, p. 253 (exhibition catalogue).
The present portrait of the musician Jaime Bosch is a preparatory lithographic cover design for one of his sheet music publications for solo guitar, Opus 85, the Plainte Moresque (Moorish Lament). Part of Manet's atelier, it was displayed at the artist's memorial exhibition in 1884 and sold at the Hôtel Drouot sale organized by Manet's widow on 24 and 25 February. It appeared again only in 1964, in a Paris sale. Its recent reappearance enabled Mrs. Juliet Wilson-Bareau to study the work and its fascinating immediate context. We are extremely grateful to her for providing us with a very detailed study report on which the present entry is largely built.
Although the work had for a long time disappeared, it was known to Manet specialists not only from the lithographic prints but also from several photographs, as well as from a gillotage reproduction in Edmond Bazire's biography of Manet that came out in 1884. As for lithographic prints, very few have survived, notably the copy 'deposed' (registered with the Ministry of the Interior) on 15 September 1866, which is today in the Bibliothèque Nationale de France (Est. BOSCH 001).
Jaime Bosch was born in Barcelona and lived in Paris since 1853. He was part of the circle of Manet's friends and regularly played at the concerts organized by the painter's wife, an excellent pianist herself. He performed in the company of the talented Zacharie Astruc, among many other artistic personalities. The virtuoso guitarist is also said to have posed for the figure of the Mexican general standing behind the emperor in The Execution of the Emperor Maximilian of Mexico (Kunsthalle Mannheim) painted by Manet in 1868-69.
Opus 85, the Plainte Moresque was composed in October 1866 and dedicated to Manet, who undertook the cover design. The painter chose to present the composer such as he appeared to his audience at a private musical evening in Manet's home: a faraway expression on his face, the fingers on the guitar, seated on a bamboo chair or stool. This seat, typical of the Napoleon III style, is recognisable in other works, notably in the Portrait of Mademoiselle Claus (Ashmolean Museum, Cambridge), unfinished version of The Balcony in the collection Musée d'Orsay. In both works Manet portrays a close friend of Suzanne Manet, the young violinist Fanny Claus. The likeness of this portrait of Bosch made by Manet is very close if we judge by the portrait drawn in 1875 by Ernest-Philippe Boetzel (Carcassonne, Musée des Beaux-Arts) and the one etched in 1883 by Félix Bracquemond, as well as by the photograph of Bosch in the Bibliothèque Nationale de France. Manet however chose to accentuate his Spanish personality by making him wear a chaquetilla (short black jacket) and a sombrero de catite (round hat). The graphic technique used for handling the face is highly sophisticated: the artist skilfully combines small crayon hatchings with touches of grey, black and pink wash enabling a play of light and shadows that animates his face and draws attention to the strange expression of the musician and his magnetic gaze.
In the words of Juliet Wilson-Bareau, Manet redrew his design on the lithographic stone "with superb assurance". The lithograph shows the figure of the musician shortened at the bottom, with lower legs barely indicated, the dedication A. Ed. Manet at upper right disappears while the painter's signature is added at lower left. The artist's total commitment to this relatively 'minor' project is seen not just in the great care taken over his preparatory drawing, but in the fact that every aspect of the cover design was supervised by Manet who signed his 'bon à tirer' for the final print now belonging to the Nationalmuseum in Stockholm.
Jaime Bosch also made dedications of pieces of music to the painter Carolus-Duran, as well as to Ernest Hoschedé, who was their mutual friend and patron in the 1870s, famous for being the first owner of Claude Monet's famous Impression, soleil levant. The present drawing thus throws a fascinating light on relationships of editors, artists, writers and musicians in the social and cultural circles in Paris. Bosch played "chez Manet", whereas Lorenzo Pagans played "chez Degas", and Madame Meurice and Madame Charpentier were happy to see them both perform at their salons. Moreover, it reminds Manet's longstanding interest to Spain and Spanish painting which was consolidated by a short but determinative journey to Madrid in September 1865, barely a year before this portrait was drawn. This hispanophilia, shared by his friends and relations including Zacharie Astruc et Lola de Valence, finds an interesting continuation in the history of drawing: Juliet Wilson-Bareau found that the buyer at the 1884 sale was almost certainly Alfred Morel-Fatio (1850-1924), a celebrated hispanist who worked in the Manuscript Department at the Bibliothèque Nationale and who is the author of the department's Catalogue des manuscrits espagnols et portugais (1881-1882). [1]
---
[1] Alfred Morel-Fatio was left an orphan at a very early age and raised by his uncle, the banker Arnold Morel-Fatio (who was also the curator of the Cabinet des Médailles). The latter's daughter Louise-Hélène married Émile-Henry-Marie Mayniel, an engineer and a commander of the Légion d'Honneur who was a witness at the double wedding of Julie Manet to Ernest Rouart and of Jeannie Gobillard to Paul Valéry on 29 May 1900.